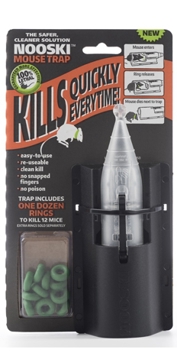 Nooski Mouse Trap
The Nooski springless mouse trap will effectively kill mice invading your home.
A revolutionary new rodent trap, the Nooski Trap System offers a safer and cleaner solution to controlling rodents. It utilises an expandable rubber latex ring as the killing device. Attracted by bait the mouse enters the trap pushing past the release trigger, which in turn releases a powerful ring onto the mouse's neck/chest area causing the mouse to spring free of the trap and die quickly and humanely.
The dual leverage release mechanism makes the Nooski Mouse Trap more sensitive than any other device, whilst having great resistance to misfires from vibration and movement.

The safety tunnel is a dual purpose design acting as the bait holder as well as safety tunnel. Featuring tamper proof clips to prevent curious pets and children from accessing the trigger housing.

Length: 150mm, Width: 56mm, Height: 33mm, Weight: 50 grams.
Available at Mitre 10 and Bunnings stores nationwide, and online here
Received two Nooski Mouse Traps this morning, jumped on YouTube for instructions and set the trap up with a little peanut butter. Nooski did the job, snapped, trapped and killing that mouse within seconds! Thanks so much for this awesome and cleanest mouse trap. The best device anyone could have in their house! I HIGHLY RECOMMEND THIS PRODUCT. - Nooski Mouse Trap user.
Benefits
Built from tough ABS plastic.
No poison.
Easy to use.
Safer around children and pets.
Kills every time guaranteed.
Kills quickly and humanely.
Designed and made in New Zealand.


Directions for use
Separate the clear tube from the black safety tunnel.
Place bait in the bait tray, peanut butter is recommended.
Roll the ring forward to the front groove of the clear housing. To prevent misfiring, push your thumb forward on the black trigger and place your finger over the front edge until the ring is in place. If having difficulty rolling the ring on, hold against a wall and push the ring forward with your fingers.
Keeping your thumb pushing forward on the trigger, insert the housing back into the safety tunnel.
Place the trap against a wall and out of reach of pets.
Nooski Mouse Trap reviews
Be the first to write a review